The following is a list of Photographers who are inspiring change through their Photography. As this list expands, so to will their individual coverage.
Stay tuned as we slowly reach out and interview each one of these Photographers to learn about their ideas, education, backgrounds, and approaches.
Every day we will show 3 photos via Instagram from one of these Photographers and the projects they have available.
*If the Photographers name is linked it means there is a write up about them here at Changing Optics while their projects/portfolios are linked directly
SUPER FAMILY
I first met David way back when I did #SlamPoetry in NJ as part of #loserslamYears later I caught up with via FB and noticed he had an awesome #colorfulportrait showing that was using a mix of different #gelledlighting
On his website #portfolio he has a series of photos of his family edited to make them appear as #comicbook #superheroes and to send the message "we should all look up to our family for the superheroes that they are".
Exploring The Residual Landscape
"Nature transformed through industry is a predominant theme in my work. I set course to intersect with a contemporary view of the great ages of man; from stone, to minerals, oil, transportation, silicon, and so on. To make these ideas visible I search for subjects that are rich in detail and scale yet open in their meaning. Recycling yards, mine tailings, quarries and refineries are all places that are outside of our normal experience, yet we partake of their output on a daily basis.
These images are meant as metaphors to the dilemma of our modern existence; they search for a dialogue between attraction and repulsion, seduction and fear. We are drawn by desire - a chance at good living, yet we are consciously or unconsciously aware that the world is suffering for our success. Our dependence on nature to provide the materials for our consumption and our concern for the health of our planet sets us into an uneasy contradiction. For me, these images function as reflecting pools of our times."
PROJECT HUMANIZE
in 2006, I studied abroad in Australia and met a fellow playing the guitar for money in the train station. I would explain how I was so intrigued by his story and inspired by his kindness, that I promised myself that when I got back home I would start a "homeless are human" photojournalism project. I would go on to tell you how, although it took 11 years and being let go from my job, I finally landed where my empathetic nature (apparently) destined me to be: the co-owner of a (soon-to-be) Non-Profit that is everything I could have ever asked for and more.
DYING ARTS
"My Dying Arts series focuses on craftsman who have dedicated theirs lives to perfecting, archiving and handing down generations old skills. In a generation of disposable goods and ideas these artisans are creating timeless goods using methods that have proven themselves over generations".
WHAT I BE PROJECT
The "What I Be Project" is a social experiment turned into, what is now, a global movement about honesty and empowerment. In today's society, we are often told to look or act a certain way. If we differ from these "standards," we are often judged, ridiculed, bullied and sometimes even killed over them. I started this project in hopes to open up the lines of communication, and to help everyone accept diversity with an open mind & heart and empower those who feel they suffer for something they may see as a flaw.
Subjects are putting their insecurities out in the open, and exposing a side of themselves that nobody has seen before. By stating "I am not my_____," they are claiming that they do in fact struggle with these issues, but it does not define who they are as a person. They are not denying their insecurity, they are owning it. It is not aimed for people to say "You're not fat," or "You don't have love handles." It is to spread awareness on what people go through due to society's paved roads. These are serious issues that some of us can live with, but most battle on a day to day basis.
SHOOT PORTRAITS NOT PEOPLE
SHOOT PORTRAITS NOT PEOPLE USES RECYCLED CAMERA EQUIPMENT TO CREATE ANATOMICALLY CORRECT WEAPON SCULPTURE. THE FINAL PRODUCTS ARE INTERACTIVE AND POWERFUL INSTALLATIONS THAT COMMENT ON THE VIOLENT ABUSE OF THESE ARTFUL MACHINES, WHILE CLEVERLY EXPOSING THE SHARED VOCABULARY ASSOCIATED WITH PHOTOGRAPHY AND WEAPONRY.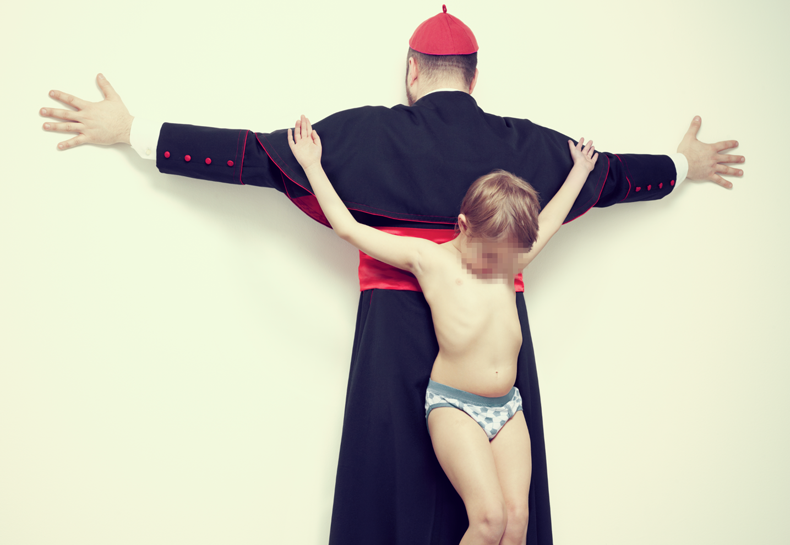 THE UNTOUCHABLES
The Untouchables by Erik Ravelo is a campaign that raises awareness on the right to childhood and the factors that threaten it. Several photos depict the main issues threatening the basic dignity of children around the world: pedophilia inside religious walls, sex tourism, the civil war in Syria, free circulation of firearms, organ trafficking, obesity and nuclear pollution.
The artwork recreates the image of the cross and juxtaposes the victim and the abuser. The abuser – a threatening-looking adult (a priest, a soldier or a nuclear engineer, among others) takes the shape of a cross, and the victim – the child, is crucified on his back. The controversial choice of the cross was intended to depict both the pain carried by the victims and the factors affecting their childhood. The word "untouchables" refers to those who must be protected (the children) and those who remain unprosecuted (the abusers).